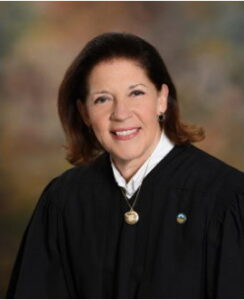 Judge Mary Jane Trapp
Judge, Lake County Court of Appeals
Judge Mary Jane Trapp is recognized throughout the state for her distinguished legal knowledge and experience.  Judge Trapp returned to the bench in February 2019, having previously served six years as a judge on the Eleventh District Court of Appeals from 2007 to 2013. She has served as its Administrative Judge in 2008 and as its Presiding/Administrative Judge in 2009, 2010, and 2021. She has also served as a visiting judge on the Supreme Court of Ohio and in four sister districts by assignment of the Chief Justice.
Judge Trapp is a leader at the state and national level in issues of administration of justice and legal reform. She has served on nine Supreme Court of Ohio commissions, committees, and task forces to develop policy for the bench and bar and served on Ohio Judicial Conference and College committees, including continuing service on the Ohio Jury Instructions Board of Editors, which she co-chairs, and on the Appellate Law and Procedure Committee. She is a member of the Executive Committee of the Council of Chief Judges of the State Courts of Appeal and chairs its Education Committee. She is the immediate Past President of the William K. Thomas American Inn of Court.
During her time in the private practice of law, she served as President of the Ohio State Bar Association, enjoyed the highest "AV" rating for legal ability and ethics, a Super Lawyer designation in Business Litigation and Mediation, and she is a Fellow in the trial lawyer honorary society, Litigation Counsel of America, which is composed of less than one-half of one per cent of American lawyers.
Judge Trapp is the recipient of numerous awards, including the Southeast Ohio Food Bank Community Service Award, the Ohio Women's Bar Association Founder's Award, the Lake County Democratic Women's Club Woman of the Year award, the Ohio Legal Assistance Foundation's Presidential Award for Pro Bono Service, the Ohio State Bar Association's Nettie Cronise Lutes Award, the Women's Leadership Council award from United Way Services of Geauga County, and the McGregor Foundation Inspire Award. She is a Columbus School for Girls' Alumna of the Year and the first Ohio Court of Appeals judge to be awarded a Henry Toll Fellowship by the Council of State Governments. In 2021, Judge Trapp was awarded the Ohio Bar Medal, the Ohio State Bar Association's highest honor, and in 2022, she received the Legacy of Justice Award from the Legal Aid Society of Cleveland.
Judge Trapp is an author, lecturer, and regular contributor to television, radio, print, and social media outlets. She was married to her former law partner, the late F. Michael Apicella and is a stepmother, grandmother, and recent great-grandmother.  Judge Trapp graduated from Mount Holyoke College, cum laude in May 1978 and received her law degree from the Case Western Reserve University School of Law in 1981.  She was admitted to the Ohio Bar in 1981 and admitted to practice before the Sixth Circuit Court of Appeals and U.S. Supreme Court.