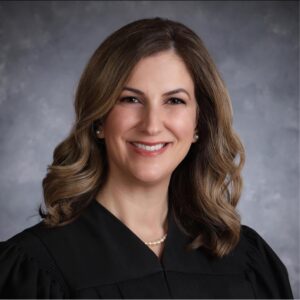 Judge Marisa Cornachio
Judge of the Willoughby Municipal Court
Judge Marisa Cornachio was elected to serve a six-year term as Judge of the Willoughby Municipal Court beginning
January 1, 2018. Judge Cornachio is the Administrative and Presiding Judge of the Court, where she oversees the administration of all criminal, civil, forcible entry and detainer actions, and small claims filings originating on the west end of Lake County. In addition, Judge Cornachio established and presides over the Willoughby Veterans Treatment Court, Lake County's first specialized docket that focuses exclusively on the unique needs of veterans. The specialized docket received final certification from the Ohio Supreme Court in 2021.
In 2022, Judge Cornachio was elected by her peers to serve as a Trustee to the Association of Municipal and County Judges of Ohio. She is a member of the Ohio Judicial Conference and serves on the committees for Judicial Ethics, Professionalism and Diversity, Judicial Education and Criminal Law and Procedure.
Judge Cornachio was appointed by the Supreme Court of Ohio to serve on the Commission on Continuing Legal Education. She previously served on the Court's Commission on Certification of Attorneys as Specialists. She was selected by Chief Justice O'Connor to serve on the Pretrial Justice Reform Summit Planning Committee.
Judge Cornachio is a member of the Lake County Opiate Task Force and the Lake County Bar Association. She serves on the Lake County Corrections Board, the Lake County Law Library Resource Board and the Lakeland Community College Advisory Committee. She has been a volunteer for the Ohio High School Mock Trial program.
Prior to taking the bench, Judge Cornachio was an assistant Lake County Prosecuting Attorney and was appointed by the Lake County Court of Common Pleas as a Special Prosecuting Attorney for over five years in conflict cases. She has extensive jury trial and courtroom experience prosecuting felony offenders. Her practice of law included small business advisory and representation of clients in municipal and common pleas courts throughout the State of Ohio. Judge Cornachio was an adjunct professor at Lakeland Community College, teaching a variety of legal courses to paralegal students.
Judge Cornachio earned her B.A in Political Science from The Ohio State University and her J.D. from Cleveland-Marshall College of Law. Judge Cornachio is a graduate of Notre Dame-Cathedral Latin School. She is married to her husband Michael and they have three children. They reside in Willoughby.