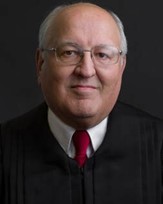 Judge Timothy Grendell
Judge of the Geauga County Probate/Juvenile Court
HON. TIMOTHY J. GRENDELL serves as Judge of the Geauga County Probate/Juvenile Court from September 2011- Present. He was a member of the Ohio Senate from 2005 to 2011, and of the Ohio House of Representatives from 2001 to 2004. Prior to being elected to public office, he was a partner in his own law firm as well as the law firms of Spieth, Bell, McCurdy & Newell, and Jones, Day, Reavis & Pogue (nka Jones Day).
Tim Grendell received his BA from John Carroll University, his J.D. from Case Western Reserve School of Law, and his L.LM from the University of Virginia Law School. He served 4.5 years active duty in the U.S. Army. As Judge, he has served on the Ohio Judicial Conference Executive Board, as President of the Ohio Juvenile Judges Association and on its Law & Policy Committee, as Secretary/Historian of the Ohio Probate Judges Association as well as its Law & Policy Committee, and on the Executive Committee of the National College of Probate Judges (NCPJ) as the Curriculum Co-Chair, Membership Co-Chair, and Communications Committee Chair.
Tim Grendell's primary interests are protecting the residents of Geauga County, their children, and their property. He is a member of the American Legion, Chagrin Valley Rotary, West Geauga Kiwanis, Geauga County Farm Bureau, and Geauga County Bar Association. Tim Grendell is the recipient of the Ohio VFW Legislator of the Year, Ohio AmVets Legislator of the Year, Ohio Fraternal Order of Police Legislator of the Year, Ohio Roundtable Leadership in Government Award, and Watchdog of the Treasury Award (5 times). He is the founder of the Geauga Learn Program and Geauga Fresh Farm Market (South Russell Village).