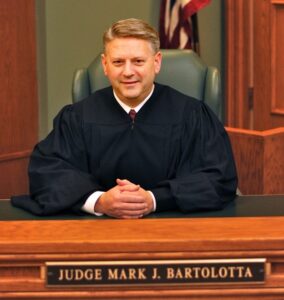 Judge Mark J. Bartolotta
Judge, Lake County Court of Common Pleas
In the fall of 1992, Judge Bartolotta was hired by the then Lake County Prosecutor Steve LaTourette into the prosecutor's office. While there, he worked as a trial attorney in the civil, juvenile, and criminal divisions for over twenty years. During the last ten years of his service with the prosecutor's office, Judge Bartolotta was the Major Felony Prosecutor. In that capacity, he was responsible for bringing to justice the most violent, heinous criminals in the county. His typical caseload included murders, rapes, robberies, burglaries, and white-collar crime.
In February 2013, after former Geauga County Prosecutor Dave Joyce replaced the retired Steve LaTourette in Congress, Judge Bartolotta was hired in Geauga County to run the Criminal Division as Chief Assistant Prosecutor. While there, he was on the team that successfully prosecuted the Chardon High School shooter who killed three of his classmates, resulting in three consecutive life sentences without the possibility of parole.
When Governor John Kasich needed to fill the open seat on the bench of the Lake County Probate Court several years ago, he turned to Judge Bartolotta for the appointment. Since taking the bench in probate court, Judge Bartolotta has handled all aspects of the court, including guardianships, civil commitments, will contests, marriage licenses, name changes, adoptions, and court administration. He has done so with the same professionalism and dedication that he has exhibited in over twenty-one years of public service.